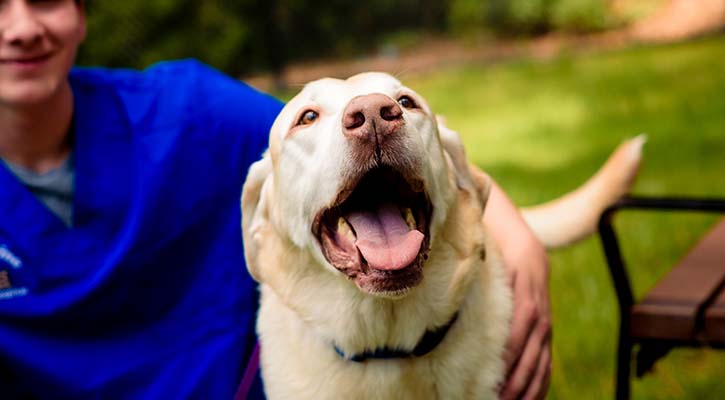 Just like you, we want your pet to live the longest, healthiest life possible. That starts with the basics: quality food, enough exercise, and regular check-ups. Yes, love is one of those basics, too—but we figure you've got that covered.
We recommend that healthy adult pets visit the vet once a year. Puppies and kittens will initially need to come more often to ensure they get their needed vaccinations, and seniors (pets over about seven) should see us twice per year. Since animals age much faster than we do, disease and illness progress faster as well—and we want to catch problems early while they're more treatable.
Our nose-to-tail wellness exams for dogs and cats are comprehensive. At an exam, our vet will:
assess your pet's physical and dental health
perform fecal and heartworm tests
advise parasite prevention
assess nutritional needs
ask about behavioral changes
develop custom vaccination and/or health plan for your pet
Individualized Flea Control Programs
A key component of preventative care is keeping your pet parasite-free. At Lake Pine Animal Hospital, we develop programs for the specific needs of your pet and your own particular environmental situation. We will review with you the best ways to control fleas in your house, in your yard, and on your pet.
We can also help you practice tick control. Contrary to popular opinion, fleas and ticks aren't just annoying. Fleas can transmit tapeworm and cause anemia. And ticks while ticks are well-known carriers of many harmful conditions, including Lyme disease.
Heartworm is another – and even graver – threat. Mosquitos can transmit the deadly worms to pets through just one bite. Sadly, many animals don't show symptoms until the disease is advanced, if at all. While there is treatment for canines, it is expensive and can be very hard on your pet. (There is no heartworm cure for cats.) North Carolina in the spring and summer is a breeding ground for mosquitos, which can transmit the deadly worms to pets through just one bite.
At Lake Pine Animal Hospital, we understand that year-round prevention is the only guarantee your pet won't suffer an uncomfortable – or even life-threatening – infestation. That's why we carry many different types of flea, tick, and heartworm preventives in our clinic.
If you have questions about which preventative best fits your pet's unique needs and lifestyle, please don't hesitate to call us or ask your veterinarian at your earliest opportunity!
HomeAgain Microchipping Services
It's an unfortunate fact of pet parenthood – dogs and cats get lost. They run away. Studies show that only 17% of lost dogs and 2% of cats ever make it back to their owners.
Your pet doesn't have to become a statistic. You can, instead, opt to equip them with a microchip. Microchips are permanent forms of identification guaranteed to last a lifetime, and they're statistically the best option out there to ensure that, if your pet ever gets lost or runs away, they'll be returned to you safe and sound.
These tiny chips get inserted between your pet's shoulder blades, after which shelters, rescues, and clinics can scan your pet and, thanks to the contact information stored on the device, reunite you quickly and safely. The procedure itself is virtually painless, and, unlike collars and tags, microchips can't fall off or get lost.
All of our microchips come with a year-long HomeAgain membership, which gives pet parents 24/7 on-call support with trained lost pet specialists, unlimited access to a national pet recovery database, and the HomeAgain 24-Hour Emergency Medical Hotline. This membership also allows you to call the poison control hotline to find out about toxins that your pet may have ingested at no cost.
If your pet is seeing us for a specific or urgent health issue, we'll do our best to get you answers as quickly as possible. We have a strong commitment to honest communication with pet parents about proposed treatments and diagnostics. We're also committed to ensuring that you understand and approve all costs associated with your pet's care.
We hope you'll see us as a resource and trusted partner in your pet's lifelong health. Please give us a call at (919) 380-1157 whenever you have questions or concerns.